Advantech USB 4750 & USB 4704¶
If you are experiencing intermittent connection to the board try to disable the XHCI feature in your motherboard BIOS settings.
This I/O driver provides an interface for Advantech USB 4750 / 4704 DAQ boards. These are USB-powered DAQ boards that can be used with desktop, laptop and tablet computers as long as a free USB port is available, no external power source is required. They are typically used as interface boards between Factory I/O and external hardware such as PLC, microcontrollers or any other device which can be electrically wired to the board.

Advantech USB 4750¶
Used for wiring PLC or any other hardware requiring opto-isolated digital I/O.
Compatible with USB 1.1/2.0
16 isolated DI and 16 isolated DO channels
High voltage isolation on all channels (2500 VDC)
High sink current on isolated output channels (100 mA/Channels)
Input range: 5 - 50 VDC
Output range: 5 - 40 VDC
Suitable for DIN-rail mounting
Advantech USB 4704¶
Typically used as a complementary solution for the Advantech USB 4750 when analog values (0-10V) are required. It also includes digital I/O which may be used for wiring microcontrollers or any other TTL hardware (5V).
Supports USB 2.0
8 analog inputs (12-bit resolution)
Bipolar analog inputs (V) SE: ±10; Diff: ±1, ±1.25, ± 2, ± 2.5, ±4, ±5, ±10, ±20
2 analog outputs (12-bit resolution)
Analog outputs range 0 - 5 V
Power consumption: 5V @ 100 mA; Max.: 5 V @ 500 mA
8 digital I/O
Sampling rate up to 48 kS/s
Although this board provides digital I/O, it's not opto-isolated and can't be used directly with a PLC without additional electronics.
Configuration¶

| Configuration Setting | Description |
| --- | --- |
| Auto connect | Periodically tries to connect to plugged-in boards. |
| 4750 Board Count | Number of USB 4750 boards to use (up to 4). |
| 4704 Board Count | Number of USB 4704 boards to use (up to 4). |
| Default | Click to reset to the default options. |
Inverting Inputs/Outputs¶
You can invert inputs and outputs by checking the Invert option. This option should be used depending on the kind of equipment wired to the board. Generally, these rules apply:
Invert the outputs when wiring a PLC with sink type inputs
Invert the inputs when wiring a PLC with source type outputs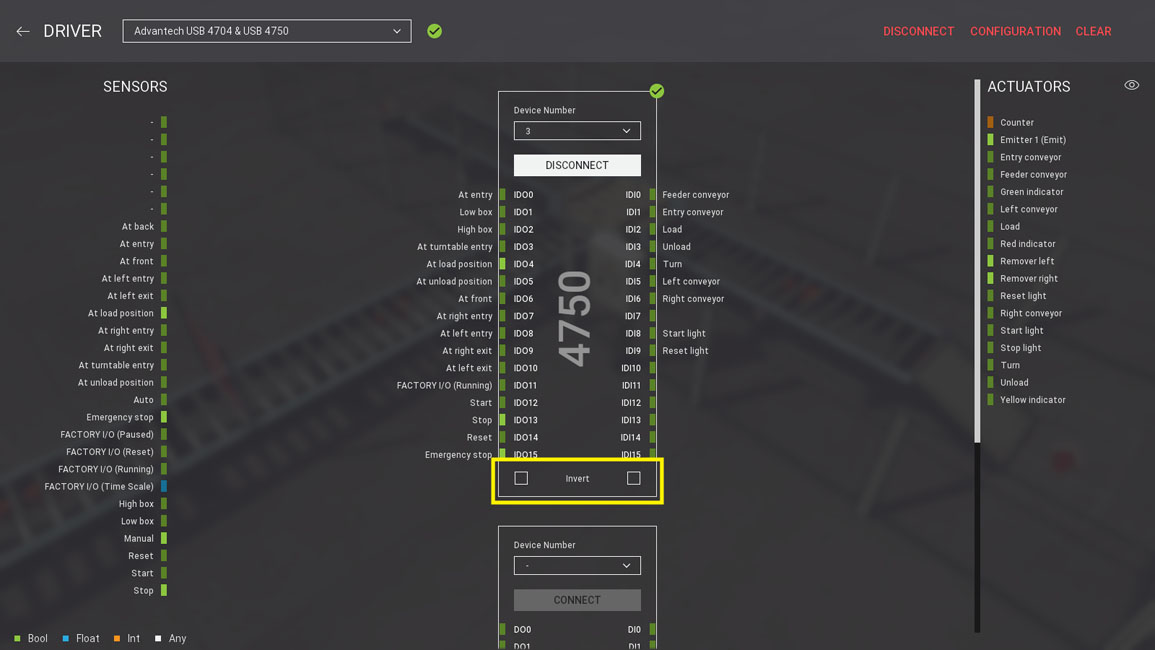 Using more than one board¶
Each plugged-in board is automatically assigned with a Device Number (by the operating system) which is used to uniquely identify it. Caution should be taken when unplugging and plugging boards since different Device Numbers can be assigned to them. In this scenario, disconnect all boards by clicking on DISCONNECT. Next, select a Device Number, click on CONNECT and check if the LED on the board is blinking, which indicates that this physical board matches the one on Factory I/O.